Heppeler Agency
International Talent and Literary Agency
Die Rosenheim Cops 2023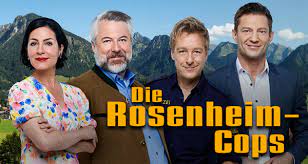 Tatort Stuttgart
Unsere Tochter und Schwester
Sebastian Fritz
takes on the role of Martin Gmähle.produced by SWR.directed by Andreas Kleinert.
Notruf Hafenkante
In the ZDF series,
Hannes Hellmann
once again takes on the role of Wolf Haller.Produced by Letterbox Filmproduktions GmbH.
Hubert ohne Staller
In the successful ARD series
Gerhard Wittmann
takes on the role of Manfred Siepert.produced by Entertainment Factory.directed by Werner Siebert.
Ende der Unschuld
In this new TV film,
Clelia Sarto
takes on the role of senior public prosecutor Limmer.Produced by Real Film.Directed by Franziska Schlotterer.
SOKO Stuttgart
In the TV series,
Anna Julia Antonucci
takes on the role of Juanita Iglesias.produced by Bavaria Fiction.
Dahoam is Dahoam
Sebastian Winkler
übernimmt die Rolle des Piloten Karl "Charlie" Fischer in einer Folge der beliebten Serie.
Ein Passau Krimi
Der verschwundene Texaner
In der TV-Reihe übernimmt THomas Schamsuer die Rolle des Hubert Höllrigl.Produziert wird von der Hager Moss Film.
Die Toten vom Bodensee
Der Teufelstisch
In the ZDF series,
Regula Grauwiller
takes on the role of Marlene Wabinski.directed by Michael Schneider.produced by Graf Filmproduktion GmbH.
German Crime Story: Gefesselt
On January 13, 2023, the crime series will be available on Amazon Prime Video. It was directed by
Florian Schwarz
.warz.